It Happened On May 27, 1837...
Born: Wild Bill Hickok, American gunfighter (d. 1876)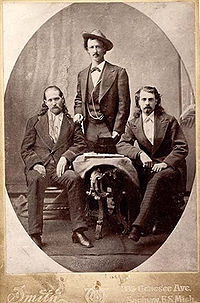 James Butler Hickok (May 27, 1837 – August 2, 1876), better known as Wild Bill Hickok, was a figure in the American Old West. His skills as a gunfighter and scout, along with his reputation as a lawman, provided the basis for his fame, although some of his exploits are fictionalized. His nickname of Wild Bill has inspired similar nicknames for men named William (even though that was not Hickok's name) who were known for their daring in various fields. Hickok's horse was called Black Nell, and he owned two Colt 1851 Navy Revolvers.
Hickok came to the West as a stagecoach driver, then became a lawman in the frontier territories of Kansas and Nebraska. He fought in the Union Army during the American Civil War, and gained publicity after the war as a scout, marksman, and professional gambler. Between his law-enforcement duties and gambling, which easily overlapped, Hickok was involved in several notable shootouts, and was ultimately killed while playing poker in a Dakota Territory saloon.
Wild Bill Hickok was born in Homer, Illinois (name later changed to Troy Grove, Illinois) on May 27, 1837. His birthplace is now the Wild Bill Hickok Memorial, a listed historic site under the supervision of the Illinois Historic Preservation Agency. While he was growing up, his father's farm was one of the stops on the Underground Railroad, and he learned his shooting skills protecting the farm with his father from slave catchers. Hickok was a good shot from a very young age.
In 1855, at the age of 18, Hickok moved to Kansas Territory following a fight with Charles Hudson, which resulted in both falling into a canal. Mistakenly thinking he had killed Hudson, Hickok fled and joined General Jim Lane's vigilante Free State Army ("The Red Legs") where he met 12-year-old William Cody, later to be known as "Buffalo Bill," who at that time was a scout for Johnston's Army. At 21, Hickok was elected constable of Monticello Township.
Due to his "sweeping nose and protruding upper lip," Hickok was nicknamed "Duck Bill." In 1861, after growing a mustache following the infamous McCanles incident, and with some encouragement from himself, he was to become known by the nickname he is most famous for, "Wild Bill."
In 1857, Hickok claimed a 160 acre (65 ha) tract in Johnson County, Kansas (in what is now the city of Lenexa), where, on March 22 in 1858, he was elected as one of the first four constables of Monticello Township, Kansas. In 1859 he joined the Russell, Waddell, and Majors freight company as a driver. The following year he was badly injured by a bear and sent to the Rock Creek Station in Nebraska (which the company had recently purchased from David McCanles) to work as a stable hand while he recovered. In 1861 he was involved in a deadly shoot-out with the McCanles Gang at the Rock Creek Station after 40-year-old David McCanles, his 12-year-old son (William) Monroe McCanles, and two farmhands, James Woods and James Gordon, called at the station's office to demand payment of an overdue second installment on the property, an event that is still the subject of much debate. Hickok and his accomplices, the station manager Horace Wellman, his wife, and an employee, J.W. Brink, were tried but judged to have acted in self-defense. According to Joseph G. Rosa, a Hickok biographer, the shot that felled the elder McCanles came from inside the house. It remains unknown who actually fired it. Rosa conjectures that Wellman had far more of a motive to kill McCanles, a belief supported by McCanles' son's own account. There were also women in the house, conceivably armed with shotguns. McCanles was the first man Hickok was reputed to have killed in a fight. On several later occasions, Hickok was to confront and kill several men while fighting alone.
When the Civil War began, Hickok joined the Union forces and served in the west, mostly in Kansas and Missouri. He earned a reputation as a skilled scout. After the war, Hickok became a scout for the U.S. Army and served for a time as a United States Marshal. For a while he was also a professional gambler. His fame increased after a published interview by Henry Morton Stanley in 1867.
During the Civil War, Buffalo Bill Cody served as a scout, along with Robert Denbow, David L. Payne, and Hickok. After the war, the four men, Payne, Cody, Hickok, and Denbow, engaged in buffalo hunting. When Payne moved to Wichita, Kansas, in 1870, Denbow joined him there, while Hickok served as sheriff of Hays, Kansas.
In 1873 Buffalo Bill Cody and Texas Jack Omohundro invited Hickok to join them in a new play called Scouts of the Plains after their earlier success. Hickok and Texas Jack eventually left the show, before Cody formed his Buffalo Bill's Wild West Show in 1882.
Others Born On This Day:
1944: Christopher Dodd, American politician
1965: Todd Bridges, American actor