It Happened On July 6, 1921...
Born: Nancy Reagan, First Lady of the United States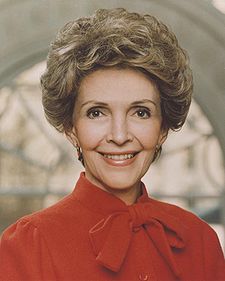 Nancy Davis Reagan (born Anne Frances Robbins on July 6, 1921) is the widow of former United States President Ronald Reagan and served as an influential First Lady of the United States from 1981 to 1989. She was born in New York; her parents divorced soon after her birth and she grew up in Maryland, living with an aunt and uncle while her mother pursued acting jobs. As Nancy Davis, she was an actress in the 1940s and 1950s, starring in films such as Donovan's Brain, Night into Morning, and Hellcats of the Navy. In 1952 she married Ronald Reagan, who was then president of the Screen Actors Guild, and they had two children. Nancy was the First Lady of California when her husband was Governor from 1967 to 1975. In that capacity, she began work with the Foster Grandparents Program.
Nancy Reagan became First Lady of the United States in January 1981 following her husband's victory, but was criticised early in his first term largely due to her decision to replace the White House china. Nancy restored a Kennedy-esque glamour to the White House following years of lax formality, and her interest in high-end fashion garnered much attention, as well as criticism. She championed recreational drug prevention causes by founding the "Just Say No" drug awareness campaign, which was considered her major initiative as First Lady. Always protective of her husband, more controversy ensued when it was revealed in 1988 that she had consulted an astrologer to assist in planning the president's schedule after the 1981 assassination attempt on her husband.
The Reagans retired to their home in Bel Air, Los Angeles, California in 1989. Nancy devoted most of her time to caring for her ailing husband, diagnosed in 1994 with Alzheimer's disease, until his death in 2004. Nancy Reagan has remained active within the Reagan Library and in politics, particularly in support of stem-cell research.