It Happened On May 25, 1963...
Born: Mike Myers, Canadian actor and comedian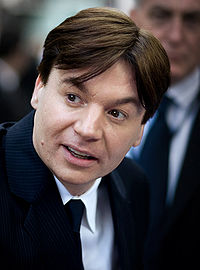 Michael John "Mike" Myers (born May 25, 1963) is a Canadian actor, comedian, screenwriter and film producer. He was a long-time cast member on the NBC sketch show Saturday Night Live in the late 1980s and the early 1990s and starred as the title characters in the films Wayne's World, Austin Powers, and Shrek.
Myers was born and raised in Scarborough, Ontario, the son of Alice E. (née Hind) (b. 1926), an office supervisor who was formerly in the RAF, and Eric Myers (died in 1991), who worked in the insurance business and previously was a cook for the British Army. Both of his parents are from Liverpool. His older brother Paul is an indie rock singer-songwriter, broadcaster and author. He is of English, Scottish, and Irish ancestry, and was raised Protestant. He attended Sir John A. Macdonald Collegiate Institute but then changed schools and went to Stephen Leacock Collegiate Institute in Scarborough, Ontario. Myers also attended Second City at the age of 19. He began working in commercials at age eight, and at ten he made a commercial for British Columbia Hydro Electric with Gilda Radner playing his mother. He was a very popular person in his school. During high school, to make girls laugh, he would go into the Wayne's World character that later came to be known as Wayne Campbell. The day he finished his high school finals he got into Second City. Later, he left Second City to tour England with comedian Neil Mullarkey. In May of 2009, Myers announced that he had become a citizen of the United States.
One of Myers' first acting jobs was in a TV commercial when he was ten years old. Gilda Radner played his mother. A few months later, according to Myers, his brother was teasing him about his "girlfriend (Radner) being on some stupid show on Saturday." Myers swore that one day, he too would be on that show.
He was a member of the cast of NBC's Saturday Night Live television program from 1989 to 1995, where he performed characters such as Simon, Dieter, Linda Richman, and Wayne Campbell from Wayne's World.
In 1992, Myers and comedian Dana Carvey adapted Wayne's World into a full-length motion picture based on the SNL sketch. The movie turned out to be one of Myers' greatest successes and one of the few Saturday Night Live-based films to be considered worthwhile by both audiences and film critics. It was among the most successful movies of the year and the following year a sequel was released - Wayne's World 2. Myers also starred in So I Married an Axe Murderer that same year. In 1997, Myers introduced Austin Powers in the film Austin Powers: International Man of Mystery later coming out with his sequel in 1999 Austin Powers: The Spy Who Shagged Me then finally topping it off with Austin Powers in Goldmember in 2002. Myers played both the title role and the villain, as well as other characters in all three Austin Powers films. In 1998, he played one of his rare non-comedic roles in the film 54: Steve Rubell, proprietor of New York City's famous Studio 54, a 1970s discotheque. The film was moderately successful, and Myers' performance was widely praised. Myers later parodied the club as "Studio 69" in Goldmember.
Myers received the MTV Generation award in June 2007, making him the 2nd Canadian to win the award (Jim Carrey was the first in 2006), for bringing his unique style of comedy to small and big screens alike.