It Happened On May 26, 1907...
Born: John Wayne, American actor (d. 1979)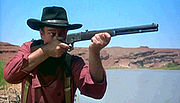 John Wayne (May 26, 1907 – June 11, 1979) was an Academy Award- and Golden Globe Award-winning American film actor, director and producer. He epitomized rugged masculinity and has become an enduring American icon. He is famous for his distinctive voice, walk and height. He was also known for his conservative political views and his support in the 1950s for anti-communist positions.
As a teen, Wayne worked in an ice cream shop for a man who shod horses for Hollywood studios. He was also active as a member of the Order of DeMolay, a youth organization associated with the Freemasons. He attended Wilson Middle School in Glendale. He played football for the 1924 champion Glendale High School team. Wayne applied to the U.S. Naval Academy, but was not accepted. He instead attended the University of Southern California (USC), majoring in pre-law. He was a member of the Trojan Knights and Sigma Chi fraternities. Wayne also played on the USC football team under legendary coach Howard Jones. An injury curtailed his athletic career; Wayne later noted he was too terrified of Jones' reaction to reveal the actual cause of his injury, which was bodysurfing at the "Wedge" at the tip of the Balboa Peninsula in Newport Beach. He lost his athletic scholarship and, without funds, had to leave the university.
Wayne began working at the local film studios. Prolific silent western film star Tom Mix had gotten him a summer job in the prop department in exchange for football tickets. Wayne soon moved on to bit parts, establishing a longtime friendship with the director who provided most of those roles, John Ford. Early in this period, Wayne appeared with his USC teammates playing football in Brown of Harvard (1926), The Dropkick (1927), and Salute (1929) and Columbia's Maker of Men (filmed in 1930, released in 1931).
While working for Fox Film Corporation for $75 a week in bit roles, he was given on-screen credit only once, as "Duke Morrison" in Words and Music (1929). In 1930, director Raoul Walsh cast him in his first starring role in The Big Trail (1930). For his screen name, Walsh suggested "Anthony Wayne", after Revolutionary War general "Mad Anthony" Wayne. Fox Studios chief Winfield Sheehan rejected it as sounding "too Italian." Walsh then suggested "John Wayne." Sheehan agreed, and the name was set. Wayne himself was not even present for the discussion. His pay was raised to $105 a week.
The Big Trail was to be the first big-budget outdoor spectacle of the sound era, made at a staggering cost of over $2 million, utilizing hundreds of extras and wide vistas of the American southwest, still largely unpopulated at the time. To take advantage of the breathtaking scenery, it was filmed in two versions, a standard 35mm version and another in "Grandeur", a new process utilizing innovative camera and lenses and a revolutionary 70mm widescreen process. Many in the audience who saw it in Grandeur stood and cheered. Unfortunately, only a handful of theaters were equipped to show the film in its widescreen process, and the effort was largely wasted. The film was considered a huge flop.
After the failure of The Big Trail, Wayne was relegated to small roles in A-pictures, including Columbia's The Deceiver (1931), in which he played a corpse. He appeared in the serial The Three Musketeers (1933), an updated version of the Alexandre Dumas novel in which the protagonists were soldiers in the French Foreign Legion in then-contemporary North Africa. He appeared in many low-budget "Poverty Row" westerns, mostly at Monogram Pictures and serials for Mascot Pictures Corporation. By Wayne's own estimation, he appeared in about eighty of these horse operas between 1930 - 1939. Coincidentally, he also appeared in some of the Three Mesquiteers westerns, whose title was a play on the Dumas classic. He was mentored by stuntmen in riding and other western skills. He and famed stuntman Yakima Canutt developed and perfected stunts still used today.
Wayne's breakthrough role came with director John Ford's classic Stagecoach (1939). Because of Wayne's non-star status and track record in low-budget westerns throughout the 1930s, Ford had difficulty getting financing for what was to be an A-budget film. After rejection by all the top studios, Ford struck a deal with independent producer William Wellman in which Claire Trevor — a much bigger star at the time — received top billing. Stagecoach was a huge critical and financial success, and Wayne became a star. He later appeared in more than twenty of John Ford's films, including She Wore a Yellow Ribbon (1949), The Quiet Man (1952), The Searchers (1956), The Wings of Eagles (1957), and The Man Who Shot Liberty Valance (1962).