It Happened On May 28, 1945...
Born: Hunter "Patch" Adams, American doctor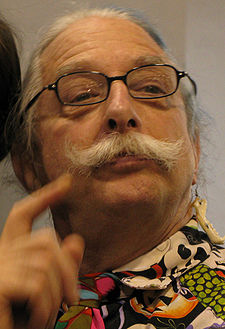 Hunter Campbell "Patch" Adams, M.D. (born May 28, 1945 in Washington, D.C.) is an American physician, social activist, citizen diplomat, professional clown, performer, and author. He founded the Gesundheit! Institute in 1972. Each year he organizes a group of volunteers from around the world to travel to various countries where they dress as clowns, to bring hope and joy to orphans, patients, and other people. In 1998 he also visited Bosnia, one of the Balkan Peninsula countries torn apart by the war that started after the break-up of Yugoslavia.
His life inspired the film Patch Adams, starring Robin Williams. Adams is currently based in Arlington, Virginia, where he promotes a different health care model (i.e. one not funded by insurance policies) in collaboration with the institute.
Whilst attending Wakefield High School in 1963, Patch Adams completed pre-med coursework at the George Washington University. He began medical school without an undergraduate degree, and earned his Doctor of Medicine degree at the Medical College of Virginia, Health Sciences Division of Virginia Commonwealth University in 1971. In the late 60s, one of his closest male friends (not his girlfriend as seen in the movie) was murdered. Convinced of the powerful connection between environment and wellness, he believes the health of an individual cannot be separated from the health of the family, community, and the world. While working in an adolescent clinic at MCV, in his final year of med school, he met Linda Edquist, a volunteer in the clinic and student at VCU. Soon after graduation, Patch, Linda, and friends founded the Gesundheit! Institute (originally known to many as the Zanies), which ran as a free community hospital for 12 years.
Adams and Edquist married and had 2 children. The elder, Atomic Zagnut Adams, was given a name indicative of Patch and his close friend Leo's personal laugh with life. His younger son's name is Lars Zig Edquist Adams.
A revamped Gesundheit! Institute, envisioned as a free, full-scale hospital and health care eco-community, is planned on 316 acres (128 ha) in Pocahontas County, West Virginia. Its goal is to integrate a traditional hospital with alternative medicine--acupuncture, homeopathy, etc. Care will combine integrative medicine with performing arts, crafts, nature, agriculture, and recreation. The West Virginia location accepts seasonal volunteers through the website. The new hospital has not been built as Patch continues to seek funding. The current caretaker staff at the West Virginia site consists of one person, but claims to be actively developing educational programs in sustainable systems design targeted to medical students, university alternative break groups, and the general public. Several videos and books have also been produced including Patch Adams.
Adams urges medical students to develop compassionate connections with their patients. His prescription for this kind of care relies on humor and play, which he sees as essential to physical and emotional health. Ultimately, Adams wants the Gesundheit! Institute to open a 40-bed hospital in rural West Virginia that offers free, holistic care to anyone who wants it.